For the 3rd year, Mariner Sands Country Club hosted our Golf Skills Challenge. Sixty-five of their members volunteered to assist our participants in the drive, chip and putt competitions.
60 participants competed from Martin and St. Lucie Counties, including students from our program partners- The Boys and Girls Clubs and the Samaritan Center.
The Golf Skills Challenge consisted of driving, chipping and putting competition for ages 8 to 18. The age divisions were 18-and-under, 15-and-under and 11-and-under. Each participant was accompanied by a member of Mariner Sands that served as their "caddie." The member kept score, escorted them to each station and provided encouragement.
Congratulations to the winners.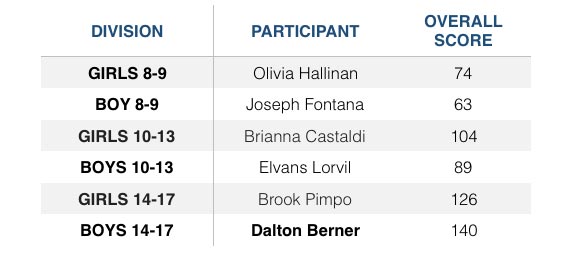 The event was free to all participants in special thanks to our sponsors:

Also a HUGE thank you to the Mariner Sands Skills Challenge Committee of Dawn Thornton, Barrett Jones, and Leigh Schmalz. The event would not have been possible without the assistance of the entire golf staff including Tim McKenna and Jim Chorniey, and Chef John and his wonderful food service staff that prepared lunch.